Whitepaper
Scaling Process Automation at your Company

Discover the Surefire Path to a Scalable Automation Program

View the German version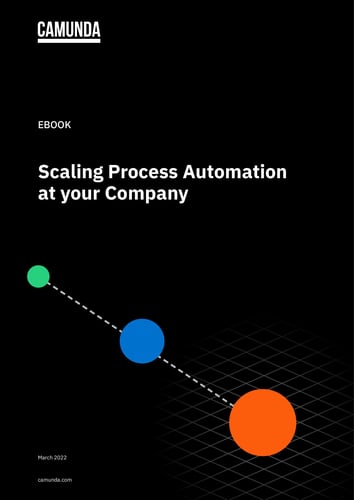 Businesses looking to automate workflow processes or migrate from monolithic systems into more agile ways of working run into the same question time and again:
"Automation is working out great...but how do I scale?"
Enter our guide, Scaling Process Automation at your Company.
Our consulting team has derived a simple pattern that has proved to be the most common path to a scalable automation program, breaking down organizational silos and overcoming resistance to change alike.
Inside this guide, you'll discover the methods and thinking behind the success of hundreds of automation projects.
You'll also learn:
The fastest, most effective route to digital transformation
How to pick a Lighthouse and Pilot Project that gets results
What three stages all successful programs pass through
Who exactly should be on your automation dream team
The secret to successful transformation projects (Hint: it's not a line of code)
Whether you've yet to embark on your first automation project or find your projects keep stalling, this resource will give you the specific, practical guidance you need that can be put into action immediately.