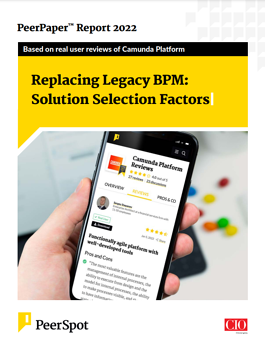 As market pressures demand that companies become more flexible and agile in their operations, more and more IT teams find that a traditional business process management (BPM) tool just won't cut it.
Based on reviews captured by PeerSpot (formerly IT Central Station), this whitepaper outlines the limitations of legacy BPM solutions and considerations for deciding on a replacement.
Discover critical assessment criteria for process automation solutions and how they can allow your company to:
Speed up designing and deploying processes
Increase ease of use and collaboration with stakeholders
Integrate with your architecture
Replacing legacy BPM systems with a modern process automation tool provides the basis for improved business processes today and sets your organization up for success as it grows and evolves.