Guide
The ROI and Business Benefits of Implementing Process Orchestration - by using practical examples
How to Achieve Cost Savings and Efficiency with Process Orchestration

Link zur deutschen Version
Doubling down on process orchestration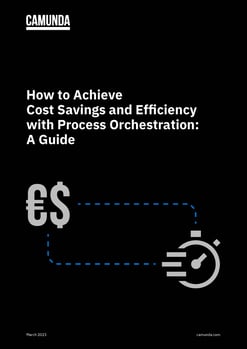 In times of economic uncertainty, it's more important than ever to rely on technology to save costs and empower your team to do more with less. Investments in process orchestration can help organizations do just that.
Throughout this guide, we cover in several examples how process orchestration can help you:
Maximize existing investments in your hyperautomation tech stack and improve ROI
Drive customer experience improvements and incremental revenue
Optimize human tasks to drive cost savings, allowing employees to refocus on more strategic priorities
Orchestrate existing processes or create new ones to drive added efficiency and savings.