Watch as our CTO Daniel Meyer discusses the changing process orchestration market and how Camunda Platform is evolving to enable universal connectivity, allowing for seamless integrations with all of the diverse endpoints that are present in today's business processes.

Modern enterprises face a number of challenges when it comes to achieving process automation at scale, including diverse endpoints, increased process complexity, and teams working in silos. That's where standards-based process orchestration comes in. Process orchestration coordinates the various moving parts of a business process, and sometimes even ties multiple processes together.

Process orchestration helps you work with the people, systems, and devices you already have – while achieving even the most ambitious goals around end-to-end process automation.
Daniel Meyer
CTO, Camunda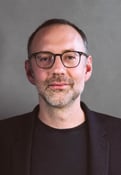 The mastermind behind some of Camunda's biggest technological developments, Chief Technology Officer Daniel joined us in 2010, serving first as a developer and consultant – coaching companies in BPM technology. He holds an MSc in Computer Science and is responsible for end-to-end development and maintenance of Camunda's industry-leading products, as well as a sought-after speaker at technology events.

Try All Features of Camunda Platform 8
Free for 30 Days